Weapon Policies:
We reserve the right to refuse any weapon on the convention floor for any reason. The Ops department has the final say.

All prop weapons

must

be taken to Ops or the Security prop check desk to be peace bonded as soon as you arrive at SFC.

If you are caught brandishing any prop in a threatening manner (even if you're joking around), or if you are caught fighting with a prop, your badge will be punched, and you will be asked to take your prop off the convention floor.
Real Guns: No firearms are allowed at SFC nor on Hilton property as per hotel policy. Police will be notified if firearms are brought onto the premises, and you will be banned from the convention permanently. No exceptions, even if you have a concealed carry license.Ammunition: No real or realistic-looking ammunition or incendiary devices are allowed.Airsoft and Paintball Guns: Cannot have working parts, and must be painted a light unrealistic gun color.Prop Guns, (realistic shape): Absolutely no metal prop guns of any kind. All prop guns must have orange tips. The body of prop gun must be painted a light, non-realistic color. Colors not allowed are: black, grey, silver, gold, brown, metallic, and any color of camouflage. Metallic accent colors are allowed if it is less than 10% of the total body of the prop gun. We should be able to tell your prop gun isn't real from a 50-foot distance.Prop Guns, (non-unrealistic) If the weapon is non-realistic in appearance, any shade of body color is acceptable.Metal Swords, Knives and Throwing Weapons: No steel or metal blades are allowed; no exceptions. No shurikens, boomerangs, throwing weapons, or items that look like them, including fidget spinners. Pocket knives are allowed if the blades are 5 inches or less, and cannot be drawn on hotel property.Weapons Purchased in the Dealers Room: If you purchase a realistic weapon from a dealer, you must put it in your car or room immediately and keep it in its original packaging.Wooden swords, bats, prop canes, staffs, etc: Are allowed. All wooden props must be brought to Ops as soon as they come on to the hotel grounds to be peace bonded.Bows and Arrows: Bows and arrows are allowed, however: no tips on the arrows, and all bows must remain unstrung for the entirety of the convention. To have your weapon approved and peace bonded, the bow must be unstrung (tied on one end only). If we see you stringing your bow or nocking an arrow, even for a picture, your badge will be punched and you will be asked to take your bow off the con floor. You may hold the arrow in place for pictures with the bow unstrung.Whips: Are allowed, and must be kept on the hip. If we see you swinging it (and not just posed for a photo), we will punch your badge and you will be asked to take it off the con floor.Mostly non-metal prop weapons: If your prop has a metal handle, or hilt, (ex: a Lightsaber or wooden sword), with a metal hand grip or hilt, this is acceptable.Metal Props: Are not allowed. Including metal bats, chains, leashes, handcuffs, oversize tools, pipes, shovels, stop signs, etc. If it's metal, longer than 10 inches and/or you could seriously hurt someone by swinging it, it's not ok.
At SFC we have a zero-tolerance anti-harassment policy. Intentional Physical, Verbal and Sexual Harassment will result in permanent expulsion from the convention. We at SFC want everyone to feel safe, and it is important for everyone to respect each other's personal space, and be kind and tolerant to one another.
Verbal harassment includes derogatory terms, hate speech, and all manners of verbal abuse. Hate speech is legally defined as: speech that is intended to insult, offend, or intimidate a person because of some trait (as race, religion, sexual orientation, national origin, or disability).
If you feel as if you've experienced verbal, physical, or sexual harassment, please report it to the nearest SFC staff member immediately.
You may report to any staff member directly:
Any Staff member you see can be spoken to about a harassment issue.

You will be escorted to a safe place, out of convention traffic.

The staff member will contact a member of our Security team who is trained to take statements to help you out.
You may also report directly to our Operations Desk at any time:
Our operations desk is open 24 hours per day at the convention.

It is a quiet, private place where anyone can report harassment of any kind.

We have gendered, and non-binary persons who are available to take reports.

Each reporting party will be listened to fully and respectfully.
You may report issues at any time either during or after the convention:
Notes on Specific issues:
SFC cannot legally ban anyone from entering the con premises unless they commit the offense onsite at the convention itself -OR- there is a legal restraining order in place. If you have a restraining order in place, and wish to contact us before the convention regarding a concern, you may use our contact form for our security department.
Staff members (including leadership and SFC Directors) and Guests of Honor are also subject to the Anti-Harassment policy. If it is reported that a Staff member or a Guest has committed the harassment, that person question will be removed from the convention floor immediately, and will remain off the floor until the issue is handled.
Costumes & Dress Code
Coming to SFC? Just read this first. For everyone's comfort and enjoyment, please adhere to the dress code (costume or no costume), or you will be asked to leave. Final approval of all props, weapons and dress are up to the Ops staff.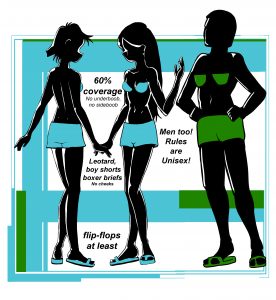 No Shoes, No Shirt, No Service: This is the hotel's policy. Plus, it's safer for your feet.

Absolutely no realistic costumes of law enforcement, military or government personnel are allowed.

Upper Body Coverage: Everyone must have 60% of both sides of their chest covered, regardless of gender. The graphic on the right is a broad example of the requirements. The 60% coverage will vary depending on your personal chest size.

No underboob, and no sideboob will be allowed at all. If we look at you from the side and are able to see less than 60% chest coverage

or

inside your clothing, you need to put something else on. Additionally, if you're walking and your top covering flies open, you need to secure the opening over your chest (ie: no swinging Aladdin vests or capes which do not have 60% front upper body coverage).

Dramatically plunging necklines which reveal sideboob or underboob are not allowed. Please use a flesh-colored panel or double-sided garment tape to avoid dramatic necklines from popping open on all sides.

Bare abdomens and bare backs are allowed.

Dance Belts: All persons wearing tight fitting costumes are now required to wear a dance belt. We should not be able to see your anatomy.

Bottom Covering: The minimum for everyone is shorts or a skirt, which must completely cover your behind (no cheeks hanging out). If we can see what type of underwear you're wearing, you need to cover up. If we can see you have no underwear on, you need to cover up. Prefer a leotard? If it does not show any cheeks, it's fine. If you have to pull down your costume to maintain basic requirements, you're not wearing enough.

Mesh, Fishnet and See-Through Clothing: If you choose to wear see-through clothing, you must still wear the minimum requirement of opaque coverage underneath it. If we can see through your clothes to your body parts, you will be asked to change. No lingerie costumes are allowed.

Nudity, even the illusion of such, is strictly forbidden in both the halls and Costume Contest. You may wear flesh-toned and/or opaque clothing to cover areas, but do not alter the garment to make it anatomically correct.

Sexually explicit images on clothing is not allowed.

There will be no removing of articles of clothing for pictures

or

during the Costume Contest.
Props
Please refer to the

Weapons Policies

for questions on all prop weapons.

You should not have any

attached costume pieces

which extend more than 1 foot from your body at your feet, arms or back. Remember that the halls are crowded- always use common sense when you have large or protruding costume pieces such as tails, hoop skirts or tall headgear or horns.

Wings should extend no more than 2 feet away from the body. If your wings are retractable, please keep them collapsed until you are outside of the hotel, or have plenty of space.

No signs are allowed at the convention under any circumstances, even if it relates to your character.

Metal handcuffs, leashes and chains over 6 inches long are strictly prohibited. There have been way too many incidents of someone being clotheslined or choked because of leashes.
Photography Code of Conduct
Code of Conduct for Photographers
In order to maintain a safe environment for our attendees, we require all persons acting as a Photographer (anyone possessing a professional grade camera ie. interchangeable lenses, larger than a point-and-shoot) to agree to the following code of conduct:
Photographers are not staff members and will not represent themselves as SFC Staff nor as an "official SFC photographer".

Photographers will not photograph or video anyone without their expressed permission.

If a costume is risqué in nature, the photographer is responsible for ensuring that the person being photographed is at least 18 years of age.

Photography or video the Dealers room and Video rooms is not allowed under any circumstances.

All photography equipment must be hand-held in nature. Freestanding equipment is not allowed on the convention floor or on hotel property. This includes but is not limited to: lighting stands, freestanding backdrops, large props and signs. Final approval will be given by NDK Staff.

Photographers and their equipment cannot block or impede traffic on the convention floor.

Drones of any type are not permitted on Hotel property.